Biphasic formula recommended for periods of intensive or prolonged strength training, or when fatigued and suffering from decreased physical performance. LevroTest AM Formula is a daily preparation containing herb extracts (rhodiola, polygonum), D-aspartic acid, folic acid and vitamins D, B6 and B12. Vitamin D, B12 and folic acid contribute to the normal function of the immune system. Vitamin B6 and B12 contribute to the reduction of tiredness and fatigue. LevroTest PM formula is a product designed for use before bedtime, based on extracts of tribulus and fenugreek enhanced with zinc, magnesium and vitamin B6. Zinc contributes to the maintenance of normal testosterone levels in the blood. Vitamin B6 contributes to the regulation of hormone activity. Magnesium contributes to normal energy-yielding metabolism.
HALAL CERTIFIED ✅
LevroTest AM formula: Take 5 tablets daily (3 in the morning, 2 during the day or before training) for 12 days. Make 3 days break and repeat 12-days cycle.
LevroTest PM formula: Take 4 tablets before bedtime.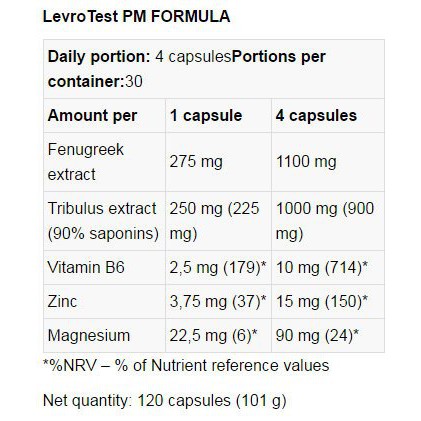 *%NRV – Nutrient reference value
Warnings: Do not exceed the recommended daily dose. Do not use if you are allergic to any of the supplement compounds. Do not use if pregnant or nursing. Food supplements should not be used as a substitute for a varied and balanced diet. Keep out of reach of young children. A varied and balanced diet and healthy lifestyle is recommended.
Store in a dry place, at room temperature (15-25°C). Protect against light. Do not freeze.
If you take medications, you should consult your doctor before you consume the product.