Kevin Levrone Gold EAAmino is an indispensable product for every serious athlete.
 This product is from the latest Kevin Levrone Gold Line series and is a source of high quality essential amino acids: leucine, isoleucine and valine. In addition, the product contains 5.9 g of EAA (L-lysine HCl; L-threonine; L-phenylalanine; L-methionine; L-histidine; L-tryptophan) in a dose of 13 g.
 Kevin Levrone Gold EAAmino additionally contains electrolytes, 0 g of sugar and has no calories.
• High content of essential amino acids;
• Added electrolytes and minerals;
• Does not contain sugar
• Increases strength;
• 0 calories per serving;
•  Reduces muscle loss;
• improves hydration;
• improves recovery;
• Helps increase lean muscle mass;
• Incredible berry taste;
Recommended Use: Mix ~1 scoop of powder (12,5 g) with 250 ml of water. Drink 1 portion immediately after workout.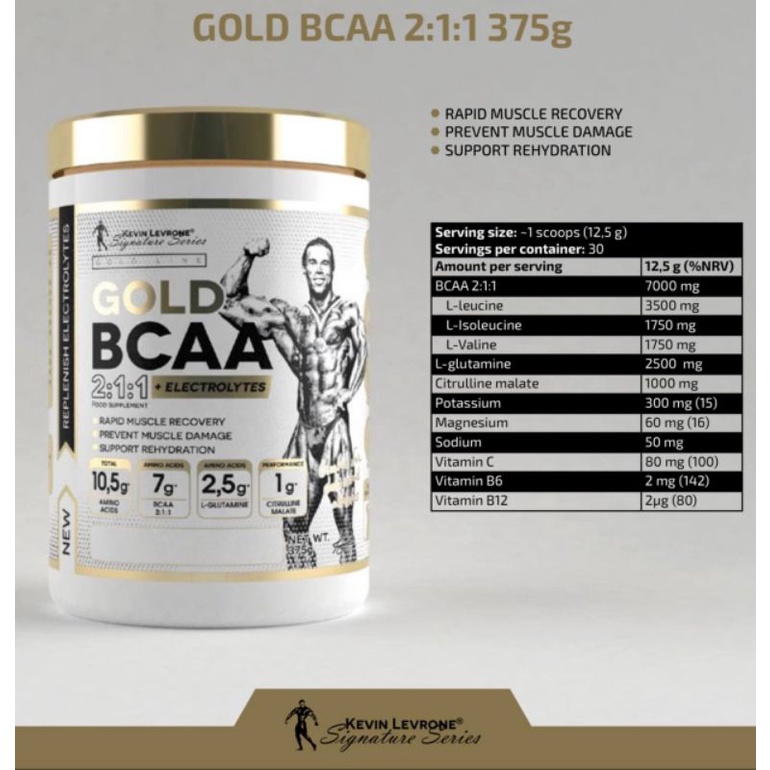 Warnings: Do not use if you are allergic to any of the supplement compounds. Food supplements should not be used as a substitute for a varied and well-balanced diet. Do not exceed the recommended daily dose. Do not use if pregnant or nursing. Keep out of reach of young children. If you take medications, you should consult your doctor before you consume the product.