GOLD Amino Rebuild. Food supplement. With sweeteners. Pre/Post workout formula with amino acids, betaine hydrochloride, citrulline malate, calcium β-hydroxy-β-methylbutyrate and L-carnitine tartrate. Enhanced with vitamins B6, B12 and niacin. Recommended to supplement strength training and intense physical activity.
Rebuild Your Muscle
Increase Strength
Support Exercise Recovery
HALAL CERTIFIED ✅
Recommended Use: Mix ~1 scoop of powder (10 g) with 200-300 ml of water. Drink 1 serving size before training and 1 serving size after training.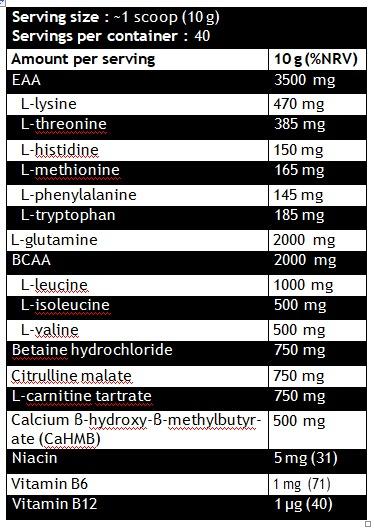 Warnings: Do not use if you are allergic to any of the supplement compounds. Do not exceed the recommended daily dose. Do not use if pregnant or nursing. Food supplements should not be used instead of a varied diet. Keep out of reach of young children. If you take medications, you should consult your doctor before you consume the product.