GOLD VITARGO® Carboloader. Food supplement. With sweetener. Powdered carbohydrate energy drink. Carbohydrates contribute to the
recovery of normal muscle function (contraction) after highly intensive and/or long-lasting physical exercise leading to muscle fatigue and the
depletion of glycogen stores in skeletal muscle. Bene_cial e_ect is obtained with the consumption of carbohydrates, from all sources, at a
total intake of 4 g per kg body weight, at doses, within the _rst 4 hours and no later than 6 hours, following highly intensive and/or long-lasting
physical exercise leading to muscle fatigue and the depletion of glycogen stores in skeletal muscle.
Recommended use: Dissolve ~2 scoops of powder (50 g) in 500 ml of water. Depending on your needs, take 2-3 servings daily, preferably before, during and after training.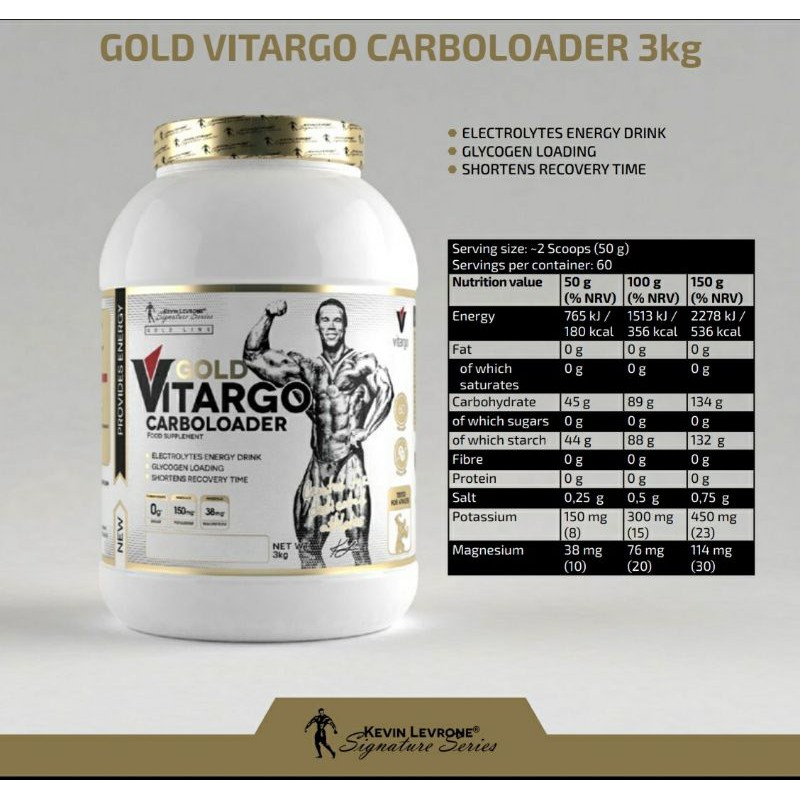 %NRV  – Nutrient reference values
Ingredients: Maize starch (Vitargo®) 96%, acidity regulator (citric acid), potassium citrate, sodium chloride, magnesium citrate, _avourings,
sweetener (sucralose), colours.
Available flavors:Watermelon Cherry; Orange Pineapple; Lemon Maracuja
Warnings: Do not use if you are allergic to any of the suplement compounds. Food supplements should not be used instead of a varied,
well-balanced diet. Do not exceed the recommended daily dose. Do not use if pregnant or nursing. Keep out of reach of young children. A varied
and balanced diet and healthy lifestyle is recommended.