OVERVIEW
Liquid energy source on the go with long and short chained carbohydrates (Glucose, Fructose, Maltodextrin, D-ribose). Enhanced with Taurine, Guarana, and L-Arginine. Added Magnesium helps you to reduce tiredness and fattigue, contribute to electrolyte balance and normal energy yealding metabolism.
DIRECTIONS
Drink one ampule, before or during intensive training (cycling, climbing, running, etc).
INGREDIENTS
Water, invert sugar syrup 28%, maltodextrin 14%, taurine 4%, magnesium citrate, L-arginine alpha-ketoglutarate, citrulline malate, glucoronolactone, potassium chloride, flavouring, guarana extract 0,5%, acid (acidum citricum), inositol, D-ribose, L-tyrosine, Green tea extract, preservative (potassium sorbate).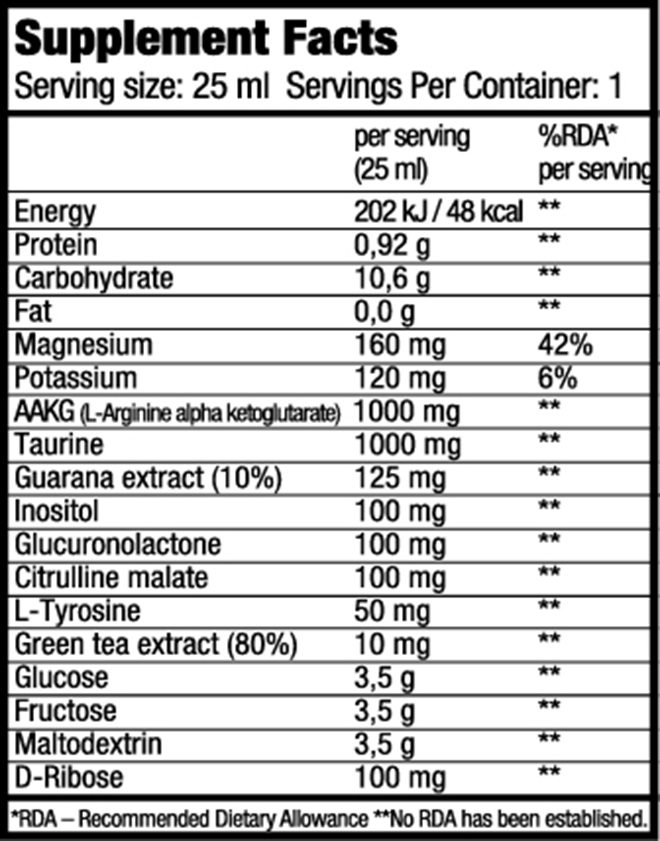 Your custom content goes here. You can add the content for individual product