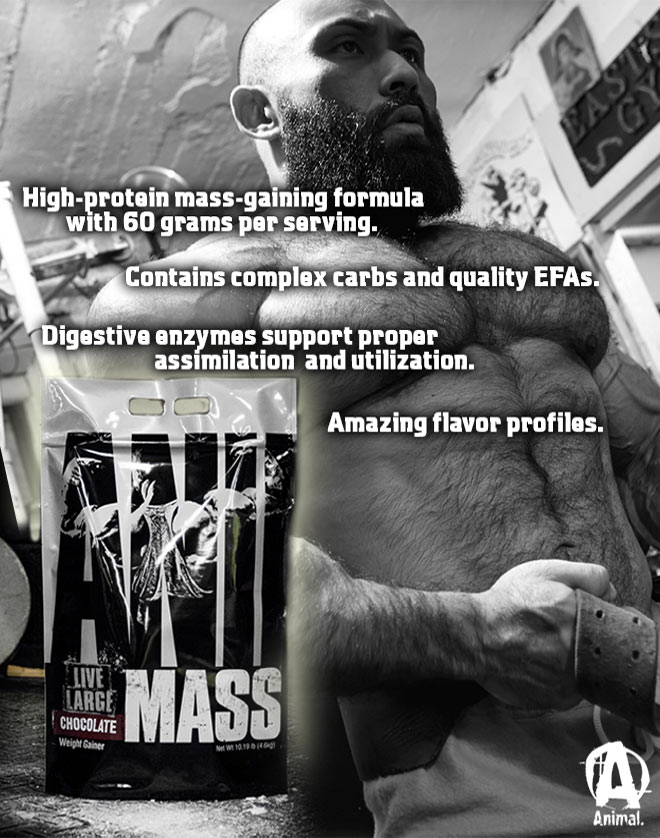 Strength athletes and bodybuilders.
Recovery from heavy and intense weight training.
Lifters looking to gain maximum lean mass.
Athletes who struggle to put on weight.
3 heaping scoops mixed with water, milk or juice. Take 1-2 Mass shakes daily, depending on your caloric requirements.
As a nutrient-dense macronutrient source, Animal Mass stacks well with products like Animal Stak, M-Stak and Pump. As always, Mass should be used to supplement a balanced whole food diet, and pairs perfectly with foundational Animal staples like Pak, Flex and Omega.
Animal Mass
Weight Gainer
High Quality Anabolic Gainer

Superior Protein Sources

Complex Carbs & Quality EFAs

Digestive Enzymes

Amazing Taste Profile
This pursuit of quality is what informed the formulation of the all new Animal Mass. Multiple protein sources like whey isolate, hydrolyzed whey, micellar casein and egg albumin. Several, easily digested, fiber-rich complex carbohydrate sources from oats and corn. Finally valuable, nutrient-laden essential fatty acid sources like MCT oil and flax. All of this, together, enhanced by the proven digestive enzymes bromelain and papain. Each brawny bag of Animal Mass is loaded for bear. Clearly, when it came time to design its first-ever lean mass gainer, Animal meant business.
First thing in the morning, between meals, postworkout, before bed… Mixed with water, milk or juice… Animal Mass is flexible enough to be integrated into the program of every serious lifter hungry for new size, from the seasoned veteran mass monster to the skinny hard-gainer desperate to make the scale move. To cast a big shadow and command attention, to move big weights and build a bigger base takes quality calories in large quantities. Animal Mass delivers those extra anabolic nutrients by the boatload, from the brand you've grown to trust.
For more than three decades, Animal has shared your mission… To grow bigger and stronger every day. Like you, that desire is a part of who we are. Animal Mass is the manifestation of this approach to living. To grow and evolve always, not just as a passing fancy, but as a philosophy that defines us. Mass for today. Mass for tomorrow. Mass for life. Live large with Animal Mass.
Directions: Mix 3 heaping scoops of Animal Mass™ with 16 ounces of skim milk or your beverage of choice. For best results, use a blender or Animal Shaker Cup. Use 2 or more servings daily or as needed to satisfy your mass gaining requirements.
Serving Size 3 Heaping Scoops (165g)

Servings Per Container 28

Amount Per Serving

%Daily Value

Calories

648

Calories From Fat

72

Total Fat

8 g

12%

Saturated Fat

4 g

20%

Trans Fat

0 g

Cholesterol

150 mg

50%

Sodium

350 mg

15%

Potassium

745 mg

21%

Total Carbohydrate

84 g

28%

Dietary Fiber

5 g

20%

Sugars

8 g

Protein

60 g

120%

Vitamin A

0%

Vitamin C

0%

Calcium

38%

Iron

16%

Riboflavin

39%

Phosphorus

31%

Iodine

27%

Magnesium

24%

Chloride

7%

* Percent Daily Value based on a 2000 calorie diet. Your daily values may be higher or lower depending on your calorie needs.

Ingredients:

Animal Mass Carb & Fiber Blend (Maltodextrin

, Inulin

, Oat Fiber

, Waxy Maize)

, Animal Mass Protein Blend (Ultra Filtered Whey Protein Concentrate

, Cross Flow Micro Filtered Whey Protein Isolate

, Hydrolyzed Whey Protein

, Milk Protein Concentrate

, Micellar Casein

, Instant Egg Albumin)

, Cocoa

, Animal Mass EFA & Digestive Enzyme Blend (MCT Powder

, Sunflower Oil Powder

, Flaxseed Powder

, Papain

, Bromelain)

, Natural & Artificial Chocolate and Vanilla Flavors

, Lecithin (Soy)

, Sodium Chloride

, Cellulose Gum

, Xanthan Gum

, Carrageenan

, Acesulfame Potassium

, Sucralose.

Made in a GMP facility on equipment that processes milk, soy, egg, peanuts, tree nuts, fish, shellfish, and wheat.