CLA 1500. Food supplement. Supplementing the diet with linoleic acid, recommended for adults performing exercise. Linoleic acid contributes to the maintenance of normal blood cholesterol levels (beneficial effect is obtained with  a daily intake of 10 g of LA).
Recommended use: Take 1 capsules 3 times per day after a meal.
Food supplement.
Nutritional information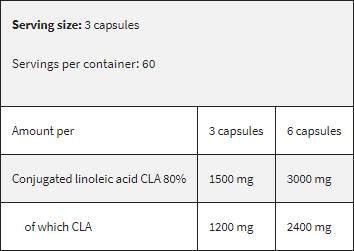 Ingredients: Safflower oil (conjugated linoleic acid, 80% free fatty acid form), capsule (gelatin), humectant (glycerol), purified water.
HALAL CERTIFIED ✅
Warnings: Do not exceed the recommended daily dose. Food supplements should not be used as a substitute for a varied diet. A varied and balanced diet and healthy lifestyle are recommended. Do not use if you are allergic to any of the product compounds. Keep out of reach of young children. In the case of pregnancy or breastfeeding, you should consult your doctor before you consume the product. Made in a plant that also processes soybean, eggs and nuts products.