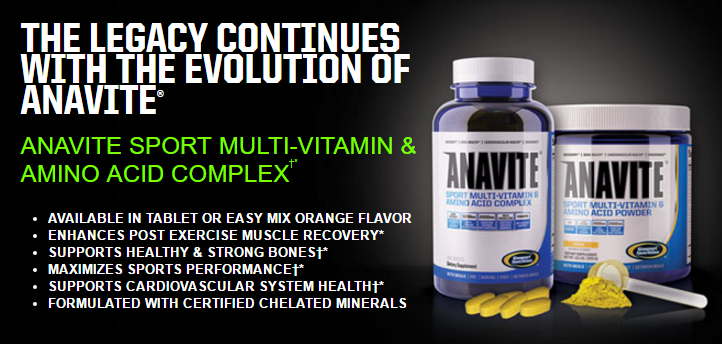 The Ultimate Performance Enhancing Multivitamin Supplement
ANAVITE's revolutionary and high potency research fueled formulations deliver fast results backed by numerous clinical research studies. From bone health, to cardiovascular support, to recovery, to endurance, Anavite has you covered with the most cutting edge formula available in the world whether you like tablets or an easy mix powder. Every ingredient was handpicked with a purpose to deliver results to help your body look and perform its best. Formulated with nutritional expertise and proven science, Anavite will accelerate your healthy lifestyle to the fullest.
WHAT DOES ANAVITE DO?
ENHANCES POST EXERCISE MUSCLE RECOVERY
SUPPORTS HEALTHY & STRONG BONES
MAXIMIZES SPORTS PERFORMANCE
SUPPORTS CARDIOVASCULAR SYSTEM HEALTH
FORMULATED WITH CERTIFIED CHEALATED MINERALS
AVAILABLE IN TABLET OR IN AN EASY MIX POWDER
Directions: As a dietary supplement for men consume 1 scoop mixed with 8 fl. oz. of water, up to twice daily with food.