Clinically Dosed, Performance-Enhancing BCAA with Betaine & Energy
First Dose Energy, Focus & Muscle Performance*
Test Subjects Built 3.75 Lbs. of Lean Muscle*
Shown in Research to Boost Strength by 40%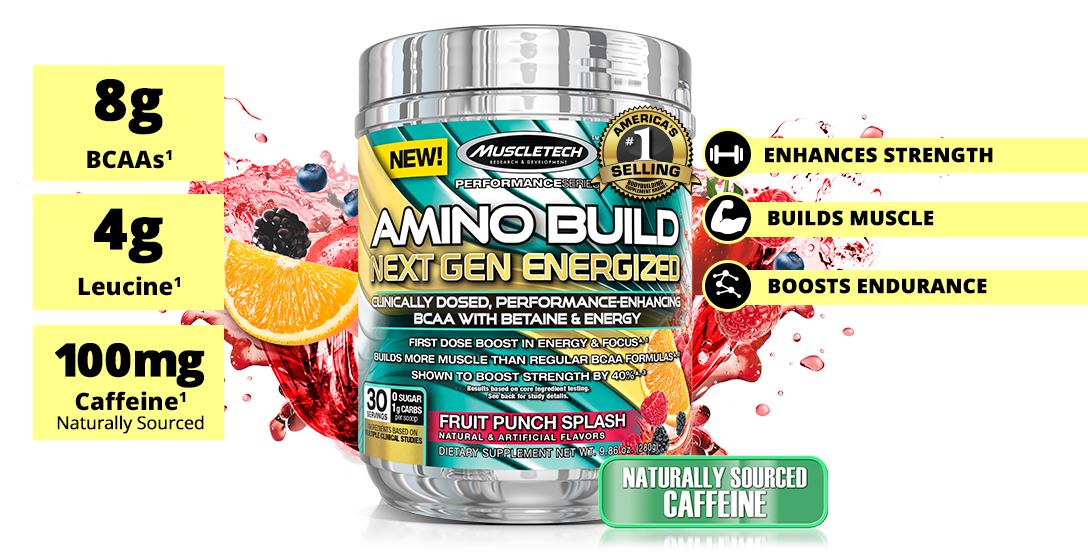 ​Clinically Dosed, BCAA with Energy
MuscleTech® researchers have taken their most powerful amino acid formula ever, and made it even better. AMINO BUILD® NEXT GEN ENERGIZED features instantized BCAAs, clinically dosed betaine, powerful cell volumizers and is enhanced with naturally-sourced, energy-boosting caffeine, as well as coconut water and watermelon juice. Unlike inferior products that are underdosed and gimmicky amino acids and no studies to back up their claims, AMINO BUILD® NEXT GEN ENERGIZED is backed by 4 different clinical studies that demonstrate its muscle-, strength- and performance-enhancing abilities.*



Enhances Energy, Focus and Endurance with the First Dose

Featuring naturally-sourced caffeine, AMINO BUILD® NEXT GEN ENERGIZED delivers and instant boost of energy, focus and intensity.* Plus, it delivers a 1g clinical dose of taurine (in 2 scoops), which has been shown to improve performance in endurance athletes.*



Build 3.75 Lbs. of Muscle

Test subjects who supplemented with the exact dose of betaine in 2 scoops of AMINO BUILD® NEXT GEN ENERGIZED (2.5g) built 3.75 lbs. of lean muscle in 6 weeks compared to 0.66 lbs. by the placebo group. That's over 5.5 times the muscle gained (vs. the placebo). Betaine has also been shown in a separate study to enhance muscle endurance.*



Increase Strength by Over 40%

AMINO BUILD® NEXT GEN ENERGIZED is precisely formulated with a 4g dose of L-leucine (in 2 scoops) shown in a clinical study to help subjects increase their 5-rep max strangth by over 40%!
DIRECTIONS
Mix 1 scoop with 8 oz. of water and consume pre- and intra-workout. For full effects, mix 2 scoops with 16 oz. of water and consume during your workout. Read the entire label before use and follow directions provided.
If you want to add your overall daily BCAA intake without the additional calories from drinking multiple protein shakes, you can also add 1-2 scoops to a jug of water and drink it over time.
Serving Size

1 Scoop

Servings Per Container

30
Amount Per Serving
% DV
Calories
25.00
Potassium (as Dipotassium Phosphate)
18.00 mg
1%
Total Carbohydrate
1.00 g
0%
Sodium
75.00 mg
3%
Sugars
0.00 g
Vitamin B12 (as Methylcobalamin)
6.00 mcg
100%
Vitamin B6 (as pyridoxine HCl)
5.00 mg
250%
2:1:1 BCAA Matrix
0.00
**
L-Leucine
2.00 g
**
L-Isoleucine
1.00 g
**
L-Valine
1.00 g
**
Cell-Volumizing and Recovery Complex
0.00
**
Taurine
500.00 mg
**
L-Glutamine
500.00 mg
**
L-Alanine
500.00 mg
**
Strength-Enhancing Compound
0.00
**
Betaine Anhydrous
1.25 g
**
ELECTROLYTE BLEND
0.00
**
Sodium Chloride
80.00 mg
**
Coconut Water (as Cocos nucifera)(Fruit)
50.00 mg
**
Watermelon Juice (as Citrullus lanatus)(Fruit)
50.00 mg
**
Dipotassium Phosphate
40.00 mg
**
Energy Enhancer
0.00
**
Caffeine (as Coffea robusta)(Bean)
50.00 mg
**
** Daily Value (DV) not established
Other Ingredients: Malic Acid, Natural and Artificial Flavor, Silicon Dioxide, Citric Acid, Sucralose, Sodium Chloride, Acesulfame-Potassium, FD&C Red No. 40